NBA 2K23 Error Code 4b538e50: How to Fix?
NBA 2K23
Date: Oct/06/22 14:04:05
Views: 690
Previously we covered how to fix error codes 727E66AC or 6F8CE31B and get MT 2K23; now, we will show you how to fix 4B538E50.

One such glitch that seems to be a constant issue with NBA 2K games is the error code 4b538e50. The same goes for NBA 2K23. The following article looks at everything we know about NBA 2K23 Error Code 4b538e50 and how you can attempt to fix this issue and get back in the game.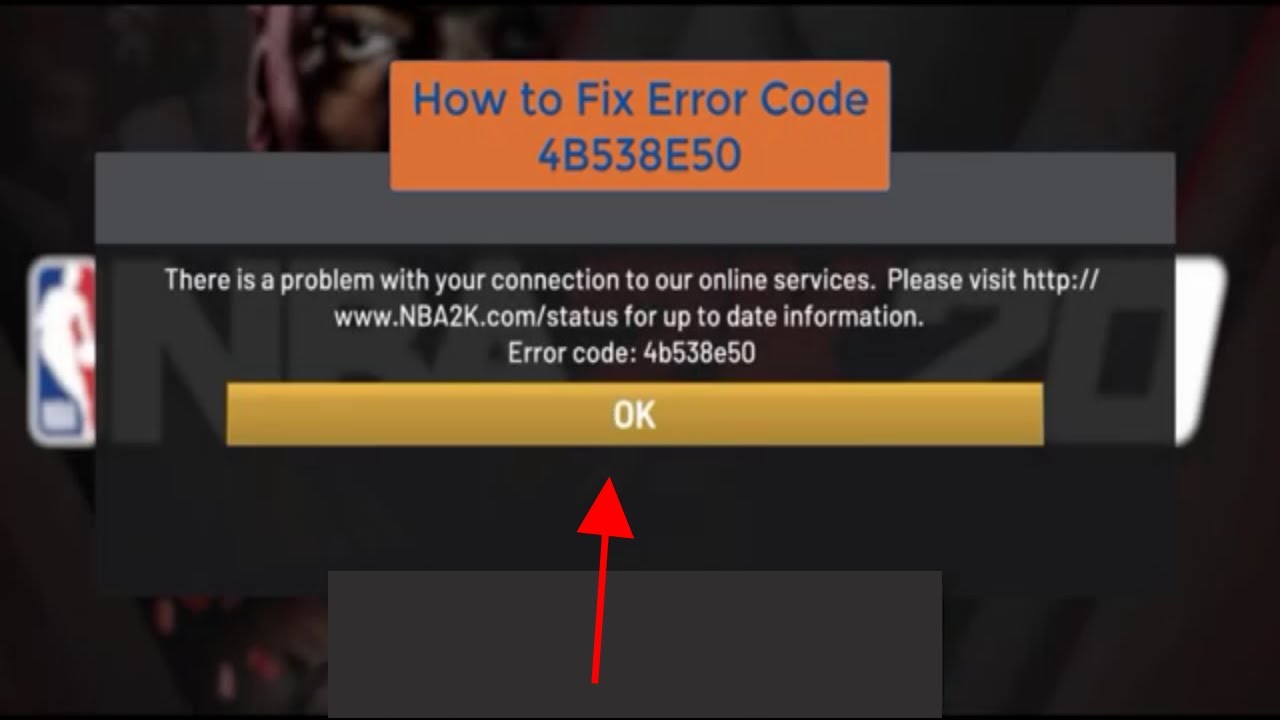 What is 2K error code 4b538e50?

2K error 4b538e50 is a network connection-related issue. This error occurs when a player tries to login into the server, and the network connection fails.

How to fix error code 4b538e50 in NBA 2K23?

Here's everything you can do to fix the error code 4b538e50 potentially:

1. Ensure Online Play connectivity

The error 4b538e50 indicates that there are problems related to Online Play connectivity. Here's everything you need to check:

1). Check your internet connection.
2). Check if NBA 2k23 servers are down at the moment.
3). Check if any third-party program such as antivirus software, VPN, or firewall is blocking access to the game's servers on the PC. Disable them one by one and check if you can connect with the game online.
4). Make sure no background apps are operating on your computer that might use up all the resources you need for internet access.
5). Find out if there's a bug that the devs have mentioned online on @2Ksupport or @NBA2K.

2. Close the game and relaunch it

Gamers can try to restart the game. Restart their network/modem and verify that other applications that demand a working connection are up and running.

3. Check if you have the most recent NBA 2K23 update downloaded and installed

4. Verify your Email address

The official NBA 2K support said you might need to verify your MyPLAYER account's email address again. To do this, perform the following steps:

1). Start your computer.
2). Open nba2k.com.
3). Click Sign In at the top-right of the screen.
4). Enter your MyPLAYER account name AND password.
5). If you log in successfully, your account has been automatically verified via the login process.

5. Check if you have enough reserved space for the game

Check that we have enough places reserved for this game; not having it implies that we will encounter various problems, and the game does not usually work as it should.

6. Check how many NBA 2K accounts you have on your device (max allowed is five)

7. Check if your data is out of sync by selecting the Play Now option in the game

8. Uninstall and reinstall

Uninstall NBA 2k23 and reinstall it to solve any issues that may have appeared due to corrupted or incorrectly installed files. This is the last action to solve the problem, which is usually applied in case the previous fixes have not worked.

Following these steps should be enough to resolve any issues related to the above error code. Also, if you found any fix to this solution and didn't cover it, share it with us in the comments.
Nba 2k23 error code 4b538e50 Related News And Guides